Diabetes Screening Event Proves a Possible Lifesaver for Two in Coachella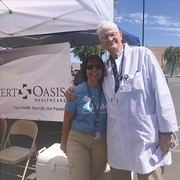 Many of us have a friend or family member living with diabetes but may have never thought about our own risk for the disease.
That being said, more than 140 people decided to change that on Tuesday, March 28 during Coachella when they attended the Alert Day Health Fair in the parking lot of the Food4Less store at 49241 Grapefruit Blvd., where Desert Oasis Healthcare (DOHC) has a Primary Care location.
Two of those tested showed dangerously high blood sugar and were taken to a nearby hospital. "It's days like this that make you glad you're a healthcare professional because we helped bring awareness about a potentially serious health concern to many people, particularly the two who were unaware of having such high blood sugar," said Teresa Hodgkins, Pharm.D. and VP of Clinical Quality Initiatives for DOHC.
"9 out of 10 Americans most at-risk for type 2 diabetes don't know it.* That's the value of this day and why we were so happy to participate in this important event."
Staff members of DOHC's Medication Management Department tested blood pressure, blood sugar, and body mass index (BMI). Those tested were also counseled on the importance of knowing the signs and symptoms, as well as the risk factors for diabetes and pre-diabetes.
Prevention and early diagnosis is critical in the successful treatment of the disease, which is a serious global health concern.
Other participants at the Alert Day Health Fair included the American Diabetes Foundation, FIND Food Bank, Walgreens, Clinicas de Salud del Pueblo, Volunteers in Medicine, Brian Billhartz Insurance, Inter Valley Health Plan, South Bay Health & Insurance Services, and KUNA-FM.