HPN & Crain's New York Business, Custom Division, Announce Winners in the 2nd Annual Heritage Healthcare Innovation Awards for New York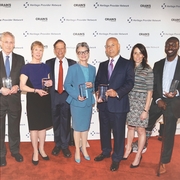 Heritage Provider Network, one of the nation's most experienced and effective physician-led, value-based care organizations and Crain's Custom Studio, a division of Crain's New York Business, announced the winners of the 2nd Annual Heritage Healthcare Innovation Awards. The awards honored those innovators who have most improved the access to and quality of affordable healthcare in the communities they serve in the greater New York area. Winners were announced in the following five categories at a luncheon ceremony held at the New York Athletic Club in Manhattan:
Heritage Innovation in
Healthcare Delivery
Nora V. Bergasa, M.D., MACP, FAASLD, AGAF Professor of Medicine, New York Medical College; Chief of Medicine, NYC Health + Hospitals/Metropolitan. Recognizing an innovator in the development of new modes of diagnosis, treatment and care who actively improves access to services and improves the quality of healthcare overall.
Heritage Technology Innovator in Healthcare
Gil Addo, CEO and Co-founder, RubiconMD. Highlighting cutting-edge applications of technology and up-and-comers in the healthcare industry. These breakthrough innovators are making significant contributions in the areas of technology, research, or new approaches to healthcare systems.
Heritage Research Investigators in Translational Medicine
Carl Nathan, M.D., R. A. Rees Pritchett Professor of Microbiology; Chairman, Department of Microbiology & Immunology, Weill Cornell Medical College.
Awarded to an individual or team based on the most significant quantitative results achieved by accelerating the transition of novel and innovative diagnostic tools
and treatments to patients.
Heritage Healthcare Leadership
Karen Ignagni, President and CEO, EmblemHealth. Recognizing a leader in the New York area that has demonstrated significant impact in their healthcare field. This forward-thinker has forever changed the way care systems work through new models, processes and pathways.
Heritage Healthcare Organizational Leadership
Steven Safyer, M.D., President
and CEO, Montefiore Medicine.
Honoring an organization that has fundamentally changed how healthcare is delivered. This organization has created or championed new ways of thinking and doing, uniting diverse constituencies to work together.The healthcare awards competition garnered nominations across the spectrum of New York healthcare, from exciting early stage startups, to long established centers of New York Medical innovation. The complete list of 25 finalists can be found at www.crainsnewyork.com/heritage.
"The Heritage Healthcare NY Innovation Awards honors and recognizes those on the front lines of healthcare delivery successfully fighting daily for improved healthcare at lower costs for millions of New Yorkers and their families," said Dr. Richard Merkin, President and CEO of HPN.
"We applaud the efforts of those exceptional winners as they are the leaders and innovators we rely on to create a convergence of new technologies and science that will change healthcare outcomes in the next decade. We are very proud to be the exclusive media partner of Heritage Provider Network for their 2nd year of their Heritage Healthcare Innovation Awards initiative, as they seek to recognize health care innovators who have improved the lives of millions of New Yorkers," said Jill Kaplan, Vice President and Publisher of Crain's New York Business. "We applaud their continued dedicated commitment to shine a spotlight on those leaders who are thinking big – exploring new and novel health care approaches, offerings or services in New York and extend our sincerest congratulations to all of the 2017 Heritage Healthcare Innovation Awards finalists and winners."
"Our Heritage New York Healthcare Innovation Award winners reflect the dream, spirit and promise of healthcare innovation we all strive for, with an important distinction. They have all personally, and organizationally made those promises to improve health, care, and cost a reality for tens of thousands of New Yorkers most in need, and lighting the way for others to follow," said Mark Wagar, President of Heritage Medical Systems.