Bakersfield Family Medical Center/Heritage Physician Network Offers Onsite Blood Transfusion Program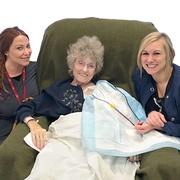 Since early 2017, the Bakersfield Family Medical Center/Heritage Physician Network have worked diligently to implement a blood transfusion program in their Procedures Department. Over the past few years, local hospitals have stopped performing blood transfusions in an outpatient setting and instead are sending these fragile patients to the emergency rooms for the procedure. Bakersfield Family Medical Center discovered a need to facilitate blood transfusions at their clinic, not only to save costs in the hospital setting, but also to provide patients with higher quality care through improved patient satisfaction with the time spent in the process and one-on-one attention.
Members who have had a previous blood transfusion can now be referred to the Procedures Department for necessary blood transfusions, during which, they will have the experience of being a high priority without the time and expense to the member receiving care in an ER setting.
The first blood transfusion patient, Ms. Charlene, had her transfusion done in early March 2018. She
stated, "Everything was much better than going to the emergency room. It was nicer in Procedures; it was more comfortable, and the nurses were absolutely wonderful." She added, "When I went to the ER,
my hemoglobin dropped real low and I got worried because they were taking way too long to get the blood to do the transfusion. The Procedures Department was more efficient because they did a blood type and cross match the day before, so when I went in the following day for the transfusion, everything was ready and it made it a much more efficient process. The nursing staff checked on me frequently, making me feel as though I was a person and they showed great concern for me during the process to make sure everything went smoothly. In the ER, I felt that I was just a number and there was no personal touch."
Bakersfield Family Medical Center/ Heritage Physician Network is pleased to offer the blood transfusion and other services to members to make their experience more pleasant, comfortable, and efficient.