Heritage Provider Network Opens New Clinic and Urgent Care Center in Santa Clarita, CA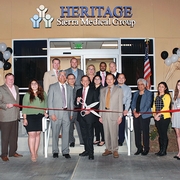 Heritage Provider Network (HPN), one of the nations most experienced and innovative physician led value-based care organizations, announced the grand opening of their new clinic and urgent care center in Santa Clarita, California. This marks the third clinic and urgent care center under the Heritage Sierra Medical Group banner, (an affiliate of HPN) the other two locations are in Palmdale, California and Lancaster, California.
"This new clinic and urgent care center extends our proven integrated delivery model into the Santa Clarita Valley to provide the community with high quality, cost effective healthcare," said Dr. Richard Merkin, President and CEO of HPN. "I'm very proud to work with this terrific team and know how committed they remain to changing lives through patient centered care," he continued. "The Santa Clarita Valley is an important community for us and we remain dedicated to providing the best services possible for everyone."
Community leaders joined local business owners, hospital executives, medical and administrative staff for the ribbon cutting ceremony, including Bob Kellar, current Santa Clarita Councilmember and former Mayor, Councilmember Bill Miranda and Santa Clarita incoming Chamber of Commerce Chairman Troy Hooper.
_

ABOUT HERITAGE PROVIDER NETWORK, INC.
Heritage Provider Network, Inc. (HPN) is one of the most experienced physician organization leaders of accountable care and continuous value-based healthcare delivery improvements. Developing and managing coordinated, patient-doctor centric, integrated healthcare systems that offers some of the strongest solutions for the future of health care and cost in the United States. HPN and its affiliates operate in New York, California, Arizona and Missouri providing high quality, cost effective healthcare with half a million patient members and are dedicated to putting patients' wellness first. (heritageprovidernetwork.com)