Heritage Victor Valley Medical Group Welcomes New Dietitian Naoko Nagaya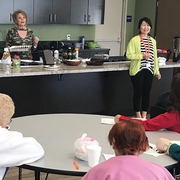 Heritage Victor Valley Medical Group (HVVMG) continues to develop its preventive medical model, which includes diet, nutrition and locally produced food. To that end, HVVMG's newest dietitian, Naoko Nagaya, comes to the medical group with an expertise in medical nutrition therapy for disease management. She consults with patients on their dietary needs in conjunction with the patient's primary physician.
Nagaya adds another layer to HVVMG's commitment to wellness, and she brings with her a refreshing point of view on diet and nutrition. "People often stereotype dietitians as if we would judge people if they don't eat healthy or fruits and vegetables," Nagaya says. "Many dietitians do eat lots of fruits and vegetables, but also enjoy other food including fried foods and dessert. I certainly enjoy eating all kinds of food, but I keep it in moderation."
Nagaya recently visited the High Desert Farmers Market featuring an assortment of organic produce either grown in the local area or brought directly from the farm. She's provided members with valuable advice in utilizing fruits and vegetables like those found at the Farmers Market that are rich in nutrients to combat easily spread illnesses. "I think maintaining your regular exercise and good eating habits are a remedy to your well-being," Nagaya says. "My focus is to bring different teaching methods to share alternative nutrition therapy to members. I want all of us to enjoy learning about nutrition and how to stay healthy."
HVVMG's senior center, The Resort, hosts another vital tool in Heritage's focus on diet and nutrition:
a commercial kitchen. The facility is part of a three-year renovation project that spanned multiple departments. The Resort underwent reconstruction to modernize the 3,200-square-foot facility. The new state-of-the-art kitchen features open-area seating and a new library with an interactive design that fosters creativity and social interaction. Nagaya recently participated in healthy cooking and baking demonstrations, furthering the depth of her accessibility to members. She was also a presenter at health education presentations.