How to Create a Healthy Shopping List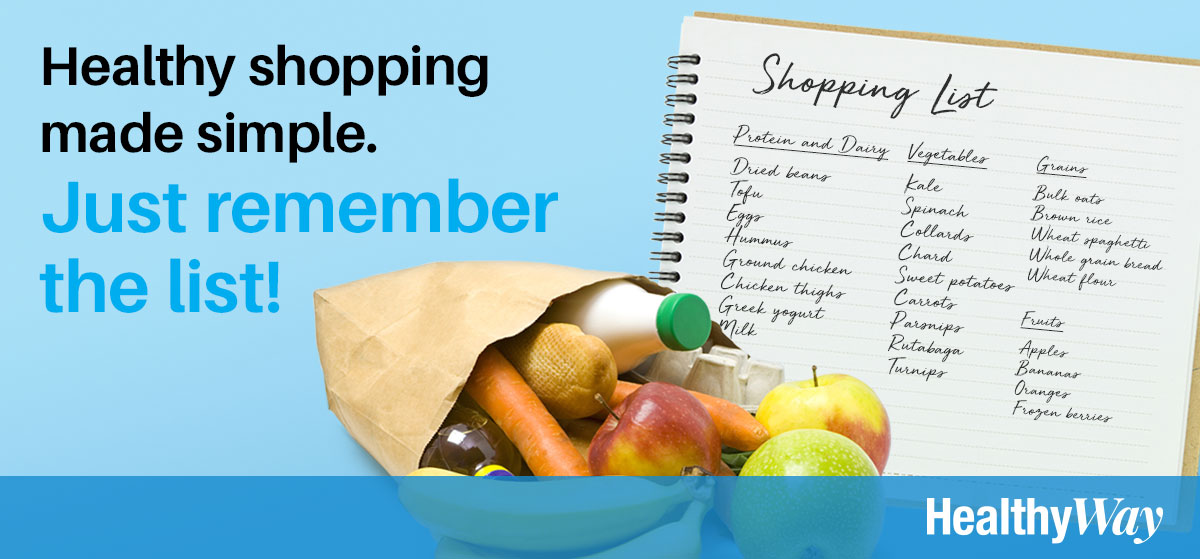 With a busy lifestyle, it's often difficult to find the time to shop for healthy food. Unless you prepare ahead of time, chances are you will often grab food that is fast and convenient, but not necessarily good for you. Creating a healthy shopping list will help you stick to your healthy eating plan while cutting down food cost by eating more meals at home.
The first step is to organize your shopping list by aisle. Follow these simple tips and fill your basket with healthier food options from each aisle below.
Produce
Buy fruits and vegetables that are in season and locally grown. Precut fruits and vegetables will also save you time. When selecting produce, look for a variety of colorful fruits and vegetables as they provide the most nutrients.
Fruits: Bananas, apples, oranges, mangoes, strawberries, blueberries
Vegetables: Sweet potatoes, baby spinach, broccoli, carrot sticks
Dairy, Cheese and Eggs
Dairy products should be used in moderation. If you enjoy whole-fat cheeses like Parmesan or goat cheese, you can use them in smaller portions. Avoid pre-sweetened or flavored yogurts which tend to be higher in sugar and calories. Instead, buy plain yogurt and add a tablespoon of fresh fruit or jam for flavor.
Skim or low-fat milk, nut milk (almond, coconut, cashew), hemp milk, oat milk
Fat-free or low-fat yogurt, fat-free Greek yogurt
Fat-free or low-fat cottage cheese
Low-fat cheese or string cheese snacks
Eggs or egg substitutes
Firm tofu
Butter or spread that do not contain hydrogenated oils
Meat and Seafood
Instead of ground beef, eat ground chicken or turkey as they are much lower in fat. Add in condiments for extra flavor. If buying red meat, choose leaner cuts which usually have less marbling.
Skinless chicken or turkey breasts
Ground turkey or chicken
Salmon, halibut, trout, mackerel, or your favorite seafood
Reduced-sodium lunchmeat (turkey, roast beef)
Frozen Foods
Frozen vegetables are a great way to save time when making soups, casseroles and stews. Low-fat frozen yogurt is also ideal for blending with frozen fruit to make a quick, healthy smoothie.
Frozen vegetables: Broccoli, spinach, peas, and carrots (no sauce)
Frozen fruit: Strawberries, raspberries, blueberries (without added sugar)
Frozen shrimp
Pre-portioned, low-fat ice cream or frozen yogurt
Whole-grain waffles
Bakery Items and Bread
Choose whole-grain breads that contain 3 to 4 grams of fiber and have fewer than 100 calories per slice. Be sure to look for labels that have "whole wheat" or "whole wheat flour" as the first ingredient.
Whole wheat bread, pita pockets, and English muffins
Whole-grain flour tortillas
Pasta and Rice
Whole-grain and multigrain options will provide more benefits and are better sources of fiber and other important nutrients, such as B vitamins, iron, folate, selenium, potassium and magnesium.
Brown rice
Whole wheat or whole-grain pasta
Cereals and Breakfast Foods
Always choose cereals and cereal bars that are high in fiber and low in sugar. You can add berries, dried fruit or nuts to add flavor and sweetness to your cereal.
Whole-grain or multigrain cereals
Steel-cut or instant oatmeal
Whole-grain cereal bars
Snacks and Crackers
When you're on-the-go, having healthy snacks around is key to eating healthy. Choose snacks that give you energy as well as nutrition value to keep you going.
Whole-grain crackers
Dried fruit: Apricots, figs, prunes, raisins, cranberries
Nuts: Almonds, cashews, walnuts, peanuts, pecans, pistachios (roasted and unsalted)
Seeds: Sunflower seeds, sesame seeds, whole or ground flaxseeds
Peanut, almond, or cashew butter
Hummus
Dark chocolate pieces with more than 70% cocoa
Oils, Sauces, Salad Dressings, and Condiments
High sodium and sugar may be hiding in the foods you buy, especially in the sauces, dressings, and condiments that you add to your food. When available, choose low sodium and sugar-free options.
Tomato sauce
Mustard
Barbeque sauce
Red wine vinegar
Salsa
Extra virgin olive oil, canola oil, nonfat cooking spray
Jarred capers and olives
Hot pepper sauce
Soups and Canned Goods
Buying canned food is also a great way to save time. Make sure to check the label and choose lower-sodium canned vegetables and soups. When buying canned fruits, choose brands that are packed in juice and not heavy syrup.
Diced or whole peeled tomatoes
Tuna or salmon packed in water
Low-sodium soups and broths
Black, kidney, soy, or garbanzo beans; lentils, split peas
Diced green chili peppers
Drinks
When buying juice, make sure it's 100% fruit juice and not a "juice drink" or "ade." One simple trick to make a refreshing drink is to add fruit juice to sparkling water.
Unsweetened green and flavored teas
Calcium-fortified orange juice
Sparkling water
As always, before making any significant changes to your diet, make sure to consult with your doctor.
For more healthy tips, visit our Health Education Library.
The content provided is for informational purposes only and is not intended to be a substitute for professional medical advice, diagnosis, or treatment. Always consult with your physician or other qualified health provider prior to changing your diet, starting an exercise regimen, or with any questions that you may have about your health or medical condition.