Quick & Easy Tips For A Healthy Heart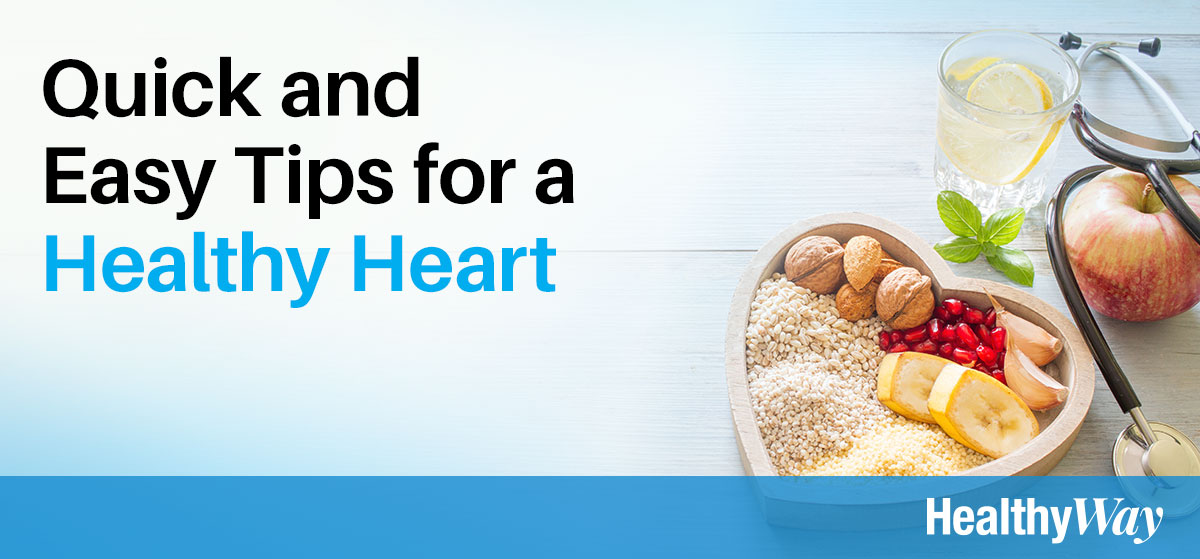 Taking care of your heart is one of the many ways to keep happy and healthy. By following some simple tips and knowing the risk factors, you can reduce your chances of developing heart disease so that you can stay independent and participate in the things you enjoy the most.
Heart Healthy Choices
It all begins with making the right choices.
Adopt plant-based eating habits that include a lot of fruits, vegetables, legumes, nuts and seeds.
Choose lean cuts of meat.
Buy whole-grain and high-fiber foods instead of processed.
Eat foods that contain Omega 3s.
Opt for low-sodium options.
Select low saturated fats and trans-fats.
If you consume alcohol, drink in moderation.
Basic Recommendations for Persons Without Heart Conditions*
Limit overall added sugar intake as low as possible, but no more than half of your daily caloric intake.
Limit saturated fat to less than 7% of daily caloric intake, and trans-fat to less than 1%.
Limit cholesterol to less than 300 mg. per day.
Limit sodium intake to 2300 mg. per day.
*For those with Chronic Heart Failure (CHF), hypertension and other heart related issues, please consult with your doctor or health educator. Source: American Heart Association
Specific Foods to Limit or Avoid
Some foods can contribute to heart disease and should be limited or avoided.
Red meats and processed meats (limit to once or twice per month)
Sweetened drinks
High calorie/high-fat foods such as bacon or ice cream
Foods containing trans-fats, saturated fats, or partially hydrogenated oils
Foods that contain MSG
Increase Your Physical Activity
Physical activity can:
Reduce risks of diabetes, heart disease, stroke, depression, and more
Prevent falls and help to improve balance
Improve connections among brain cells
Helps with weight management
As always when performing any type of physical activity, consult with your doctor so that he or she can best advise on the right exercises for you.
What Can You Do Today?
Practicing these simple steps each day to form healthy habits will set you on the right path to better heart health.
Pick one thing you can do that may improve the health of your body.
Think of small first steps, such as:

Taking a 10-minute walk a few times a week
Adding one serving of vegetables each day
Making an appointment for health screenings or a physical exam

Write down what you will do and when, or use free mobile apps like "MyFitnessPal" to track food intake and activity levels
Get support from family, friends, or community groups
Try this delicious heart healthy recipe!
Avocado Tuna Salad
Recipe Serves 5 | Prep Time: 5 minutes
Ingredients
1 medium (7 ounces) avocado, cut in half
½ cup pico de gallo
2 (6.4 ounces) tuna Flavorseal pouches, packed in water
Instructions
Remove pit from avocado. Use a spoon to scoop out the insides of the avocado and place in a medium bowl.
Mash the avocado with a fork or potato masher. Add pico de gallo and mix well.
Add tuna to bowl and mix well. Serve the tuna salad with your choice of whole-wheat crackers, whole-wheat pitas, lettuce wraps, or on a bed of lettuce.
Nutrition Facts
| | | | |
| --- | --- | --- | --- |
| Serving Size: 1/2 cup | Protein: 18 g | Sugars: 1 g | Sodium: 405 mg |
| Calories: 130 | Fat: 5.0 g | Dietary Fiber: 3 g | Potassium: 405 mg |
| Carbohydrate: 4 g | Saturated Fat: 0.8 g | Cholesterol: 30 mg | |
For more healthy tips, visit our Health Education Library.