Regal Medical Group Pediatricians Receive Top Doctor Recognition in Pasadena Magazine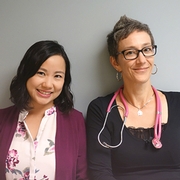 NORTHRIDGE, CA (September 18, 2017) – Regal Medical Group is pleased to share that Dr. Micky Obradovic and Dr. Rungsima Vayupakparnonde were selected for special recognition in Pasadena Magazine for displaying excellence in pediatric care. Their work at Regal Medical Group Pediatrics in Burbank provides top-tier quality that our members know to rely on.
The 10th annual Top Doctors of 2017 list, which highlights the best medical professionals in the Los Angeles area, will be published in the September issue of Pasadena Magazine. In an area with abundant medical talent, the magazine's list helps readers determine the best physicians to fit their needs. Drs. Micky and Rungsima were selected by their peers to be featured in this year's list.
As trusted Regal physicians, Drs. Micky and Rungsima proudly serve the city of Burbank and its surrounding communities. Being mothers themselves, they understand the ever-changing needs of their patients, from newborns to college students. Guided by the recommendations of the American Academy of Pediatrics, they deliver care with a precise combination of science and compassion, partnering with parents to assist in raising healthy, happy children.
"At Regal Medical Group Pediatrics, we believe that great care does not stop at 5 p.m.," expressed Dr. Micky. "No matter what time of day, one of our doctors will be available to answer our patients' questions and care for their needs."
About Regal Medical Group and Lakeside Community Healthcare
Regal Medical Group and Lakeside Community Healthcare serve as a trusted healthcare network for more than 500,000 Southern California members, boasting a network of thousands of health care providers. As the largest doctor-owned medical group in Southern California, RMG and LCH are dedicated to quality, affordable healthcare.