Tips to Avoid Toy-Related Eye Injuries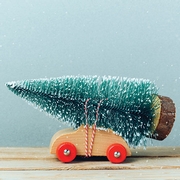 Regal Medical Group and the American Academy of Ophthalmology urge the public to shop with an eye on safety
NORTHRIDGE, CA (December 3, 2018)– With the holiday shopping season in full swing, Regal Medical Group joins the American Academy of Ophthalmology to remind the public of important safety guidelines when choosing gifts for little ones in their lives. Recent studies have shown that some popular toy types are commonly associated with childhood eye injuries, including air guns and other toys that shoot projectiles, high-powered lasers, and sports equipment. Regal and The Academy encourage parents to follow these tips when gifting toys to children this holiday season.
Beware of airsoft, BB guns, and other projectile toys. Every year, ophthalmologists treat thousands of patients with devastating eye injuries caused by seemingly safe toys. Avoid items with sharp, protruding, or projectile parts that can easily propel into the eye's sensitive tissue.
Never allow children to play with high-powered laser pointers. Many recent reports in the United States and internationally show that children have sustained serious eye injuries by playing with high-powered lasers (between 1500 and 6000?milliwatts). These lasers have potential to cause severe retinal damage with just seconds of laser exposure to the eye. The FDA advises the public to never shine a laser pointer at anyone and to not buy laser pointers for children.

Read age recommendation labels. To select gifts appropriate for a child's age, look for and follow the age recommendations and instructions about proper assembly, use, and supervision.
Know what to do (and what not to). If someone you know experiences an eye injury, seek immediate medical attention. As you wait for medical help, make sure to never to touch, rub, apply pressure, or try to remove any object stuck in the eye.

"When the spirit of the holidays is in full swing, we can forget how easily kids can get injured when playing with certain toys," says Jane C. Edmond, M.D., a clinical spokesperson for the American Academy of Ophthalmology. "We hope people will take steps to shop and play responsibly this year. Following these tips can help make sure our little ones have healthy vision for many holiday seasons to come."
About the American Academy of Ophthalmology
The American Academy of Ophthalmology is the world's largest association of eye physicians and surgeons. A global community of 32,000 medical doctors, they set the standards for ophthalmic education and advocating for their patients and the public, and ensure the delivery of the highest-quality eye care. For more information, visit aao.org.
About Regal Medical Group
Regal Medical Group is an affiliate of Heritage Provider Network (HPN), which serves as a trusted healthcare network for more than 550,000 Southern California members. As the largest doctor-owned medical group in Southern California, HPN and its affiliates are dedicated to quality, affordable healthcare. For more information, please visit regalmed.com.